Welcome to the Hands on Heart Clinical Canine Massage Therapy Website.
I'm now offering Hands-Off Assessments via Zoom!, click the button below to find out more
What Is Canine Massage Therapy?:
Has your dog been acting like a teenager? Are they moping around the house, when they do finally get out of bed? Then it is possible your dog is suffering from soft tissue or muscle injuries.
Canine Massage Therapy is used to recondition soft tissue injuries, relieving muscles and other under-lying orthopaedic conditions that may be effecting mobility and quality of life.
Massage Therapy assists dogs and owners through recovery and recuperation from injuries, traumas and even day-to-day wear and tear.
| Benefit | Description |
| --- | --- |
| Improved mobility and activity | Your friend will be back to their younger days, finding it less painful to move around while walking, running and even jumping! |
| Improved character and mood | We can all get a little grouchy when in pain, when this is alleviated your friend will be back to their former self. |
| Fully rehabilitated muscles | Muscles can be injured in lots of different ways, with all the varieties of stretches and snaps. |
| Return to normal posture and gait | Ever had a "crick in your neck"? I bet you didn't hold your head normally that day! Well dogs are just the same, when in pain they will adapt into different stances. |
What Does The Therapy Involve?: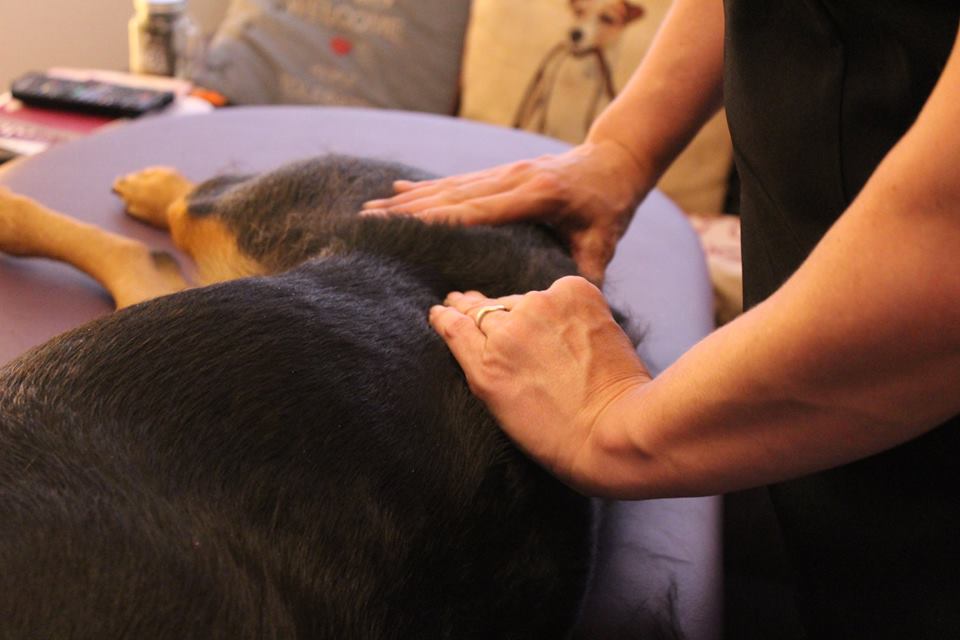 Free chat or Zoom call
Free chat or Zoom call
Have you noticed any pain-related behaviour in your dog? Do you think your dog may benefit from Canine Massage Therapy? Are you worried about potential veterinary costs or whether you are giving your dog too many NSAID painkillers?
If you can answer yes to any of those questions, then please contact me to book in a free, friendly and informal 20-30 minute chat. During our conversation, i'll ask you some questions about:
Diet and Exercise
Past Injuries
Medical History / Veterinary diagnosis
Normal Daily Activities of Living (ADLs)
Any changes you or your dog walker may have noticed
From our conversation, we can decide together if a clinical canine massage is needed or if an alternative method of treatment may be more suitable.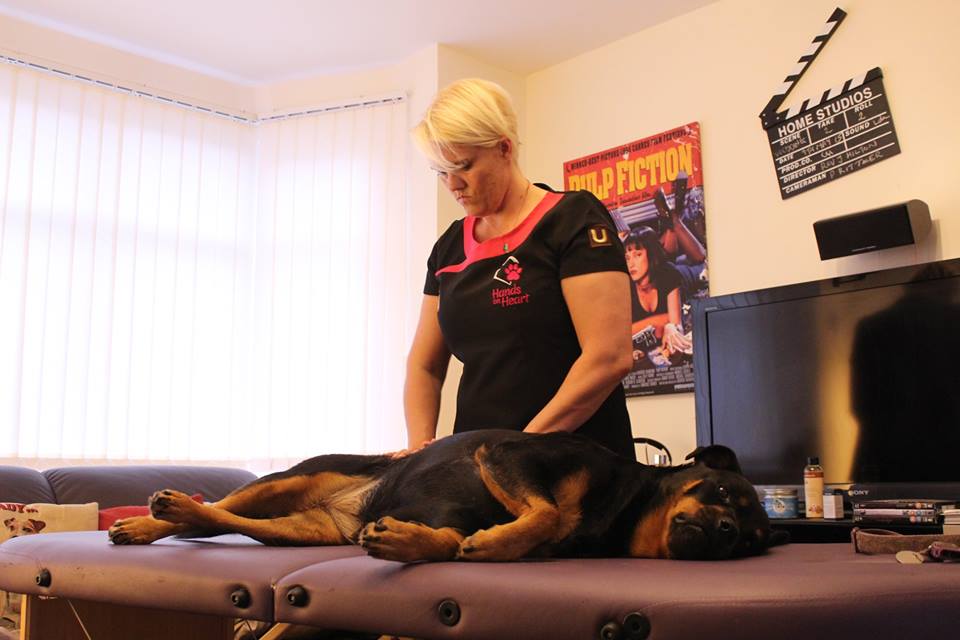 Safety First / Vet Consent Form
Being a responsible owner, you will need to download a Vet Consent Form signed by your vet (download it here) before i can carry out any treatment on your dog. This is for your dog's safety as well as a legal obligation:
As fully trained Canine Massage Therapists, every Guild Therapist has been trained to work closely with your Vet and ensure we get their medical consent before Hands On Treatment. This is a legal obligation according to the Veterinary Surgeons Act of 1966 and the Exemptions Order of 2015 but also ensures that your dog has no underlying medical issue that massage could make worse. NB. As well as your vet signing the bottom half of this form, you will need to fill out the top half and sign it to say you understand that the Vet will not be held responsible for any massage treatment carried out on your dog. As soon as you have this signed by your vet then we can book you in for 1-3 sessions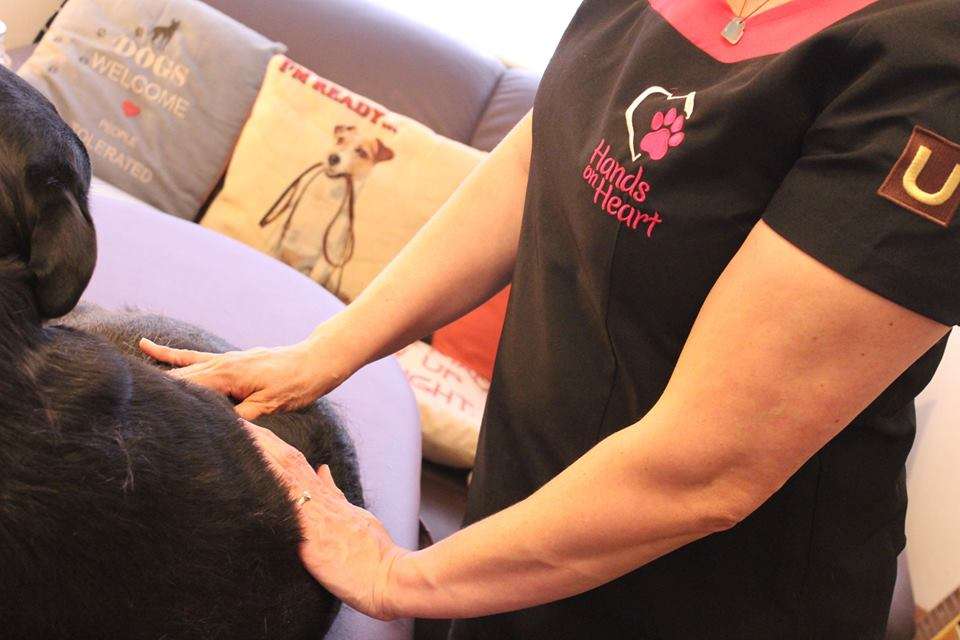 The First Appointment
During this initial consultation I will perform a Gait Analysis. This involves me analysing the way your pet moves at different speeds with you, from standing still to cantering. This is a hands-off analysis to detect areas of pain and discomfort as well as stiffness and other irregularities.
Post Gait Analysis I will conduct the Lenton(TM) Method of palpation (full body muscular health check) in order to get a full holistic picture of your dog. From this, I can assess muscles and areas of soft tissue for injury, scarring, trigger points, wastage of the amongst many other irregularities. This assessment is natural and non-invasive.
I will then move into a Full Body Massage (lasting roughly 45 minutes) where I will not just focus on the problematic areas but also address any areas of overcompensation and continue assessing your Dog's physical and emotional reactions throughout the session. Throughout this entire procedure, your dog's wellbeing is of the utmost importance but therapeutic discomfort may be necessary in order to significantly reduce your dogs pain.
At the end of the session I will demonstrate my findings to you using simple diagrams to show the areas of issue to give you a better understanding. I will also provide aftercare instructions so you can continue with the care between appointments.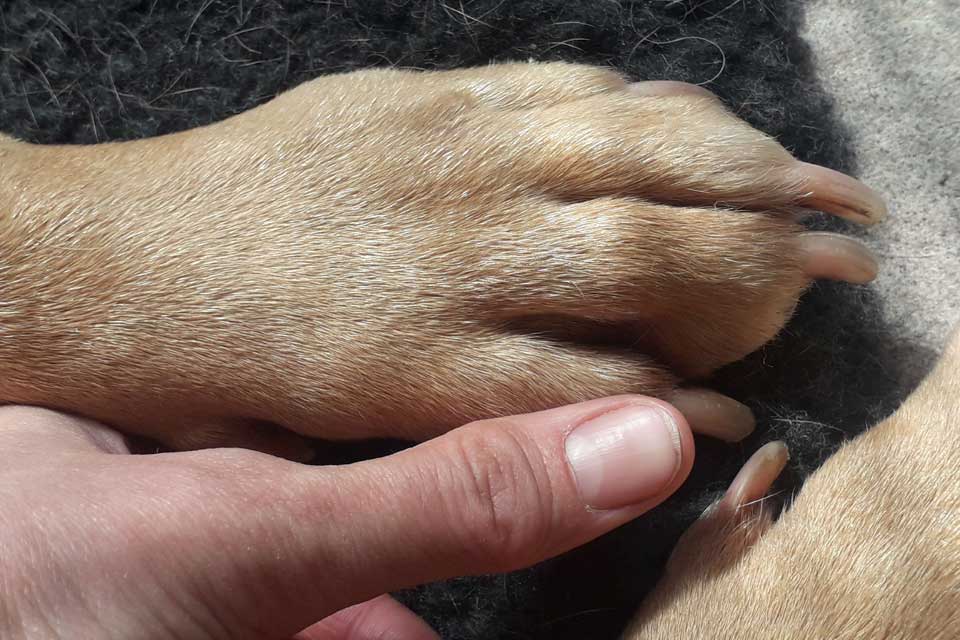 Subsequent Consultations
I recommend an initial three sessions to build up the trust with your dog, whilst I work on improving their circulation and reaching to the deeper cause of their pain, not just the presented symptoms. I incorporate four massage techniques, including:
Deep Tissue
Swedish
Sports Massage
Lenton (TM) – Method of Myofascial Release
I will also give you tips on how you can reduce the risk of your dog injuring this area again.
I will always send your vet a report afterwards so I can work with them to complement any further treatment your dog may need (e.g. management or canine arthritis or hip/elbow dysplasia), or to inform them that expensive and invasive surgery may no longer be required.
Proven?:
Canine Massage Therapy is becoming a globally recognised form of treatment, with new founded acknowledgement from veterinaries across the United Kingdom and ongoing research in the University of Sparsholt and Winchester. For more information please refer to the
following article
.
Description
Price
Hands-Off Assessments –
Carried out online via Zoom: Discussions about any strange behaviours you have noticed, videos of your dog moving at different speeds and home-based habits, then I can offer advice and help you adopt basic massage techniques so that you can help your dog's circulation or refer you to your vet if needed.
£40.00
(45 minutes chat)

Per-Session, inclusive of a full initial consultation –
For more information regarding this service please view our "What Does The Therapy Involve" section here.

Recommended 3 Sessions Deal –
For more information regarding this service please view our "What Does The Therapy Involve" section here

£50.00 + Travel

£145 + Travel

Veterinary "Lunch and Learn" Sessions :
An Introduction to Canine Massage provided by a Canine Massage Guild Member delivered to your staff in-house. These sessions include a Subway® Lunch and CPD certificate.
£10.00 Per Person + Travel

Dog Owner Massage
I offer Human massages too, whether you want a massage after your dogs or on a completely separate day I offer a range of options.

£35 Back, Neck and Shoulders 

£50 Full Body +Travel

Per Session, Manual lymphatic drainage clinical canine massage –
Can be done within 48 hours after an operation to enhance postoperative recovery.
Remove the impact of anaesthetic and promote recovery.
Also very good for anxious dogs, relaxing, calming, promoting deep relaxation and those who are in too much pain.

£60.00 + Travel

Travel
In-person operating area South Lancashire and Cheshire.
All other areas must use Digital services.

£0.50 Per Mile from Warrington
Health & Wellbeing Products:
I recently added these natural Aloe Vera products to my portfolio after researching the company, their ethics and their high quality topical products and nutritional supplements with natural anti-infective properties which can be used for both animal and human use so you can both look after your overall wellbeing. Here are a few examples that I recommend to my clients, as well as using on myself and my dog, Lola.
You can call or message me for more product information, or simply Click Here to order direct from my shop to your door!
Name
Description
Aloe MSM Gel

A mixture of hydrating Aloe Vera and anti-inflammatory MSM, i use this topical gel on the painful aching joints of both my dogs and my human owners… rapid relief when rubbed into elbows, wrists, knees, lower back and feet… and that's just me!

Honestly though, this in combination with the Heat Lotion has been a game changer for many of my human clients as well as the dogs, for the times between appointments as well as those areas that are just to painful to touch.

Aloe Heat Lotion

Containing Arginine and Menthol in an Aloe Lotion, this topical saviour works to relax stubborn aching muscles, like calves, back, neck and shoulders… not just in us humans but also does wonders on the dogs too… The muscles just relax enough for deeper work to be carried out, after a gym workout or just a pre-night time treat to feel so much better the following morning.

Also amazing for soothing the pain from monthly period cramps!

Aloe Gel

A must for any First Aid kit, especially for those long walks with your dog.  Soothing relief for minor cuts, blisters, burns, insect bites and sunburn… yes for both of you!

Just pop it in your bag with your water bottle, your dogs water bottle (and yummy treats) and enjoy your walk in peace.

Aloe Drinking Gel

Containing all the natural benefits of Aloe Vera, this gel can be drunk every day as a prebiotic containing Vitamins C & D, Zinc and natural fibre. You CAN take it a s a shot but I prefer to dilute it like a cordial and add a bit of honey too.

I have personally used this when I need a digestive reset and to combat heartburn symptoms and I also used poured it over the food of my dog Lola to stop her gastric reflux when she was given a load of tablets from the vet after her cruciate operation.

Aloe Propolis Crème

This gorgeous smelling cream made by bees to protect the Queen Bee is non-greasy and easily absorbed. It can be used as a nourishing hand cream, paw balm or rubbed into dry skin patches on both you or your dog… One client of mine bought some to help a fur patch grow back after her dog was in a scuffle.
Risks
There are always risks to every form of Clinical Therapy, however by working closely with your Vet and ensuring we get their consent before Hands On Treatment. We significantly reduce the risks of Clinical Canine Massage Therapy as stated in the Veterinary Surgeons Act of 1966 and the Exemptions Order of 2015.
Accreditations
We are fully accredited by the
Canine Massage Guild
, take a look at our
profile
here.
To maintain current knowledge in our field of expertise, all Massage Guild members must under go at least 25 hours of continued professional development per year.
We understand that a lot of pet owners will wish to consult their vet before partaking in any clinical canine, we encourage this as it may help us gain a quicker understanding of where the pain's originate. Simply
download this form
and ask your vet to fill it in for you before sending it to myself.