Welcome to the Hands on Heart Clinical Canine Massage Therapy Website.
I'm now offering Hands-Off Assessments via Zoom!, click the button below to find out more
Canine Massage Guild
– Leading the way
I am very proud to be a member of the Canine Massage Guild. All Canine Massage Guild therapists have been trained in the Lenton Method®, it is a 3-tiered approach to the evaluation, treatment and re-evaluation of the canine patient who presents with soft tissue or musculoskeletal injuries and / or degenerative diseases like canine osteoarthritis.
History of the Clinical Trials
Prior to 2021 a wealth of anecdotal evidence existed on the efficacy of the Lenton Method® but canine massage therapy had not been researched or tested academically.
In the autumn of 2018, the Canine Massage Guild made history when both Sparsholt and Winchester universities conducted the first ever, in depth clinical trials on the efficacy of clinical canine massage therapy and specifically, the Lenton Method®
Understandably there were some delays caused by the global pandemic. However the Canine Massage Guild was delighted when the research paper was first published in the Vet Record on the 15 June 2021 titled Effect of massage therapy on pain and quality of life in dogs: a cross sectional study and this can be accessed HERE
As the study had such a large sample of dogs the researchers applied a conservative error rate of 0.1 %, this is equivalent to human clinical trials. Therefore, there is a 0.1% chance that the results of the study were due to random effect.
Out of 527 dogs, 492 dogs responded to treatment. The variables between cases such as age, breed and conditions were of a diverse enough range to ensure the type of dogs that therapists see in practice were represented.
Whilst there are many reasons for whether or not a dog is responsive, this result evidenced that veterinary-diagnosed musculoskeletal conditions responded successfully after Clinical Canine Massage Therapy.
Positive changes in the dogs' mobility and behaviours were often observed after just one treatment, increasing with subsequent sessions.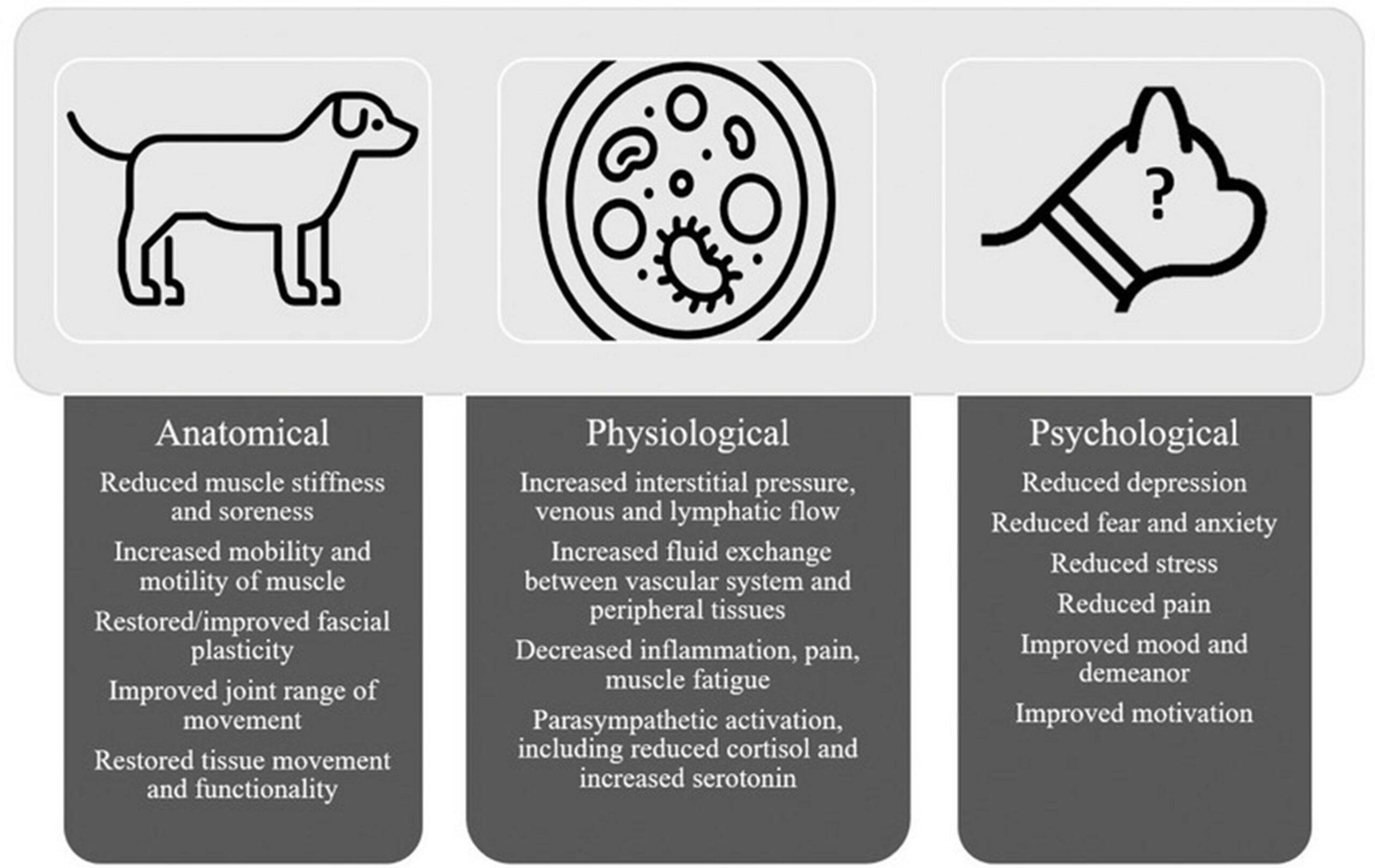 Owners and Vets can be assured that Clinical Canine Massage has a rational, scientific basis and is justified and effective when used for musculoskeletal pain and mobility issues.
The Canine Massage Guild celebrated its 10th Anniversary in March 2022 and is excited to continue leading the way in canine massage. The plan for double blind trials in the summer of 2020 was unfortunately delayed due to the global pandemic, but the Canine Massage Guild is looking forward to progressing with the double-blind trials in the future.
Risks
There are always risks to every form of Clinical Therapy, however by working closely with your Vet and ensuring we get their consent before Hands On Treatment. We significantly reduce the risks of Clinical Canine Massage Therapy as stated in the Veterinary Surgeons Act of 1966 and the Exemptions Order of 2015.
Accreditations
We are fully accredited by the
Canine Massage Guild
, take a look at our
profile
here.
To maintain current knowledge in our field of expertise, all Massage Guild members must under go at least 25 hours of continued professional development per year.
We understand that a lot of pet owners will wish to consult their vet before partaking in any clinical canine, we encourage this as it may help us gain a quicker understanding of where the pain's originate. Simply
download this form
and ask your vet to fill it in for you before sending it to myself.